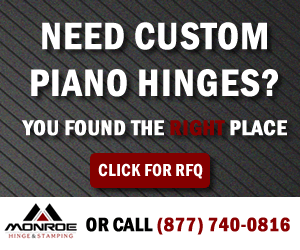 Monroe is ISO 9001:2008 quality certified and specializes in the manufacture of a variety of hinge types including: continuous hinge, piano hinge, butt hinge, and custom designed hinges. We also provide related hardware and stampings.
Materials used in our manufacturing process include: Steel, Galvanized Steel, Stainless Steel, Brass, Aluminum, and Bright Stainless Steel. We are equipped to produce special and fabricated hinges and perform such operations as hole punching, forming, offsetting, notching, countersinking, finishing and plating. Holes can be added depending on quantity requested.
Monroe's quality system has been certified to meet ISO 9001:2008 and AS 9100:2009 standards to better serve our customers.
Please give us a call or send an rfq if you have any questions.
Page updated 10/20/14